Middleton Preschool T-Shirts Available!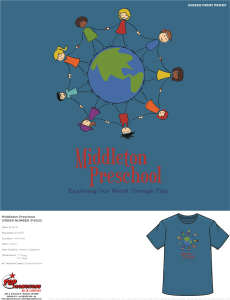 Now is the time to order your own Middleton Preschool t-shirt! It's a great way to show your school pride and is great to wear during our walking field trips. Please complete the information below and return to Heidi by Friday, September 16, 2016.
Shirts are $9.00.  Please pay with your order.  Cash or check only made payable to Middleton Preschool.  (This may be added to your tuition check).
Click here to download an order form.